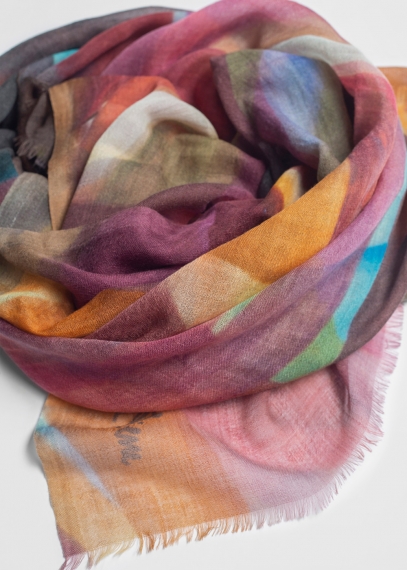 Burgundy Painting Light Cashmere Stole
The perfect weight: a light cashmere stole ideal for all seasons.
Its width allows it to be worn on the shoulders as an elegant stole with femininity and elegance, even for a ceremony or event.
Its versatility also makes it ideal for practical and daily use, tied around the neck.
A jewel cashmere shawl that embellishes any outfit, in all seasons and on all occasions!
The print is taken from the painting created by the artist Maria Luisa di Thiene, whose signature can be admired in a corner of the scarf.
To be worn with brown or blue for a classic combination, with white for a super chic impact effect, also fantastic to tone down an outfit with bold colors like orange.
Thanks to the presence of many colors it is very versatile, both for spring summer and for autumn.
Gauze
Lighter than Twill, heavier than Voile. It is the right middle way and perfect passepartout for all seasons
Description
100% pure superfine cashmere
100x200 cm
Made in Italy
Dry clean
---