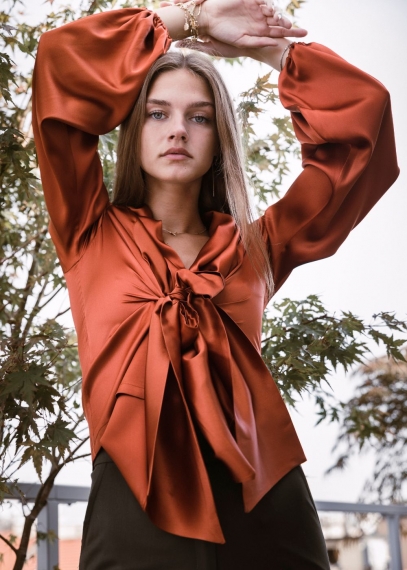 Liva balloon silk blouse
Elegant silk shirt characterized by balloon sleeves and overlapping closure.
The garment is available in limited quantities as indicated, or can be made to order in any color and size.
Request an appointment in our Toosh showroom and we will create your tailored blouse together in Milan!
Shirts
Customized Women's Shirts
With a great variety of women's shirts and a wide selection of luxury fabrics, Toosh offers a sartorialist experience at 360 º.
Our custom made women's shirts have become a must in Milanese apparel: a versatile, refined and comfortable bespoke collection that adapts to your body and your needs.
These tailored shirts can be ordered in classic sizes or made to measure, choosing from the endless possibilities of customization at the Toosh Showroom in Via Vivaio, 4 Milan.
Description
93% Silk 7% Elastan
Made in Italy 
Made-To-Order Service in over 50 colors 
Samples collection available in our showroom "Toosh" (Via Vivaio 4, Milan)
Dry clean the first time and then hand wash in cold water
Request an appointment in our showroom and we will create your bespoke garment! 
---